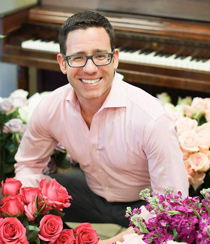 A lifelong resident of New Jersey, Ken attended Wroxton College in Oxfordshire, England in 2003 and was graduated from Farleigh Dickinson University in 2005 with a degree in Political Science and International Studies. Departing from his field of study upon graduation, Kenneth quickly established a niche in the floral design industry and takes great pride in leading the team at Narcissus Florals, a wedding, event and everyday florist on the New Jersey Shore.
Notably, Ken and his team at Narcissus have been featured in several industry publications including, Floral Finance, Retail Florist, Flowers and Profits and numerous special features in the Asbury Park Press, theKnot, and NJBride magazines.
Ken is a devoted artist, business owner and engaged citizen. He currently serves on The Wroxton College Advisory Council of Fairleigh Dickinson University, Special Advisory Board to President of Fairleigh Dickinson University, and is Vice-Chair of the Ocean County College Foundation Board of Trustees. Additionally, he serves as Vice Chair of The Greater Toms River Chamber of Commerce, an Honorary Commander of Joint Base McGuire-Dix-Lakehurst, and Immediate Past President of The Garden State Philharmonic. He remains an active member of Kiwanis, Toms River Daybreak and The Jersey Shore Business Network, Inc.
Presently, Ken lives in Toms River with his loving husband Jonathan Z. Petro, Co-Managing Partner of the Law Firm of Carluccio, Leone, Dimon, Doyle and Sacks. Together they travel often, live well and laugh as much as possible.